When you launch the app for the first time, you will get prompted to give the app some access to your location, or photos on your device (tablet or smartphone).
If you do so while being connected to the telescope's Wi-Fi you will also receive an additional prompt about allowing the app to connect to devices on your local network. Because you are connected to the eVscope the local network is the eVscope network and selecting "Don't Allow" will prevent you from being able to connect to it at a later stage.
Prompts should occur in this order (while connected to the telescope)
Geolocation > Allow while using the app;

Unistellar would like to find and connect to devices on your local network > OK

Science push notification > OK and Allow (you may get prompted twice)

Unistellar would like to access your Photos > Allow Access to all Photos
When not connected to the telescope, the second prompt will not appear.
The last prompt, about Photos, may only occur the first time you try to access the image gallery, so we would recommend activating it from the start by tapping on the last (rightmost) icon at the bottom of your screen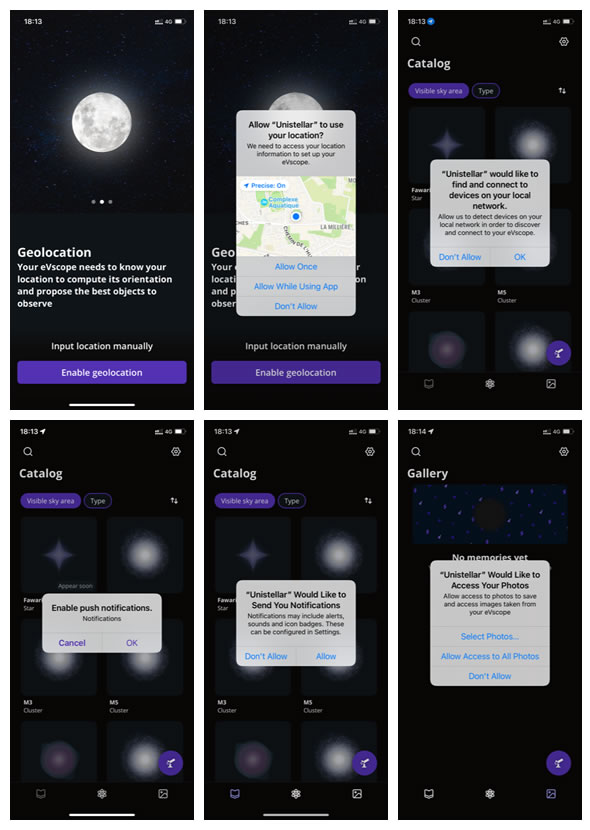 If you select another setting by mistake this can be adjusted by going to your device settings, scrolling to the list of apps and tapping on the Unistellar app, and changing the desired option as shown below.