Collimation proved to be extremely robust on our prototype. Yet it is sometimes necessary to check the mirror alignment, for example after each time your eVscope is having a long journey.
For this procedure, you will need:
1) The Telescope tool 1
2) A clear sky with visible bright stars.
Point your eVscope toward a bright star by selecting a visible one in the list of proposed stars.
In the settings, set the gain and the exposure time on AUTO.
Center the target using the in-app joystick.
With the focusing wheel at the bottom of your eVscope, turn the focus wheel clockwise to the maximum, to start.
You will see something like this :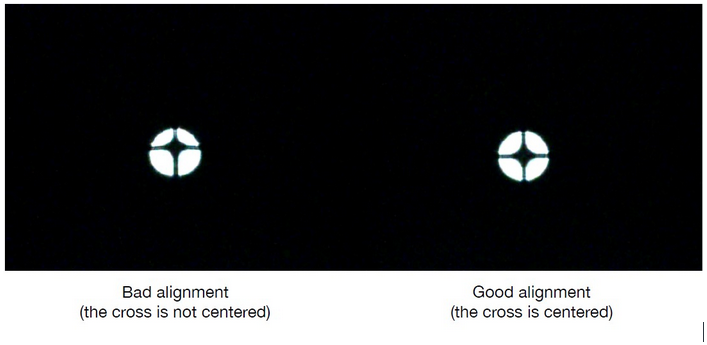 If the dark cross is not centered (as shown in the above image on the left), you need to realign your mirror.
Find the Telescope tool 1 in the toolbox.
First, move the telescope with the joystick to put the star at the edge in the direction indicated in the table below:

Then turn the vertical or horizontal screw in the mirror mount to put the star back at the center. For example, if the cross is too high :

Repeat the procedure until the cross looks centered. You might have to do it several times.
Move back the focus to the default position by aligning the visual cue with the top screw, then adjust it by rotating the wheel.
After that, move toward a bright star to adjust your focus.
Enjoy. The image should look better!
You can also try the same process by defocusing anti-clockwise to see if it makes any difference.
And here is our video that covers the subject:
Tip: if you still find your collimation not perfect, you can try moving the focus wheel clockwise as well and evaluate the cross and collimate "live" while looking at the screen or in the eyepiece. Increase the Exposure to get acceptable steadiness, then reduce the Gain to get a clear spider shadow. Back and forth until you're happy.